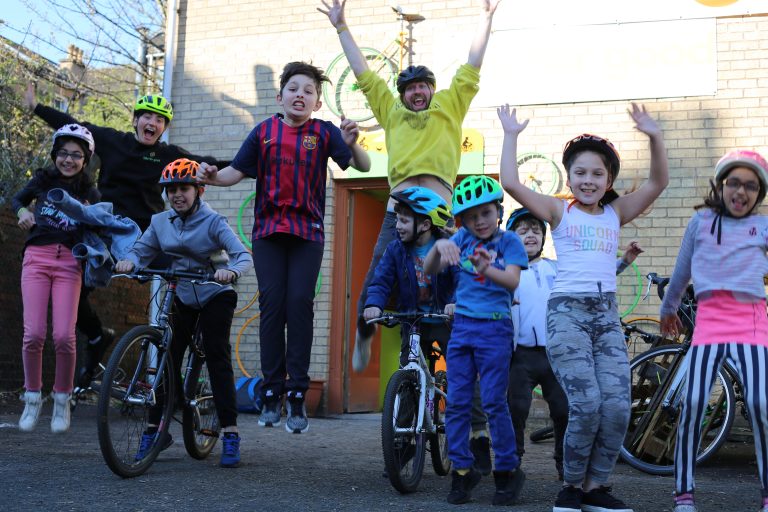 Bike for Good are a cycling charity based in Glasgow, focused on our mission to enable people to cycle as their mode of transport. On the 12th October, we were delighted to debut a short film at our south hub in Govanhill, focused on our efforts to tackle climate change through our VeloCommunities project.
Watch here…
Let's Go!
'Let's Go! A film about cycling, community and climate change', is the second film to be produced from a two-year embedded artists project with Bike For Good. In 2018, the playwright Lewis Hetherington and filmmaker Geraldine Heaney were commissioned to join the VeloCommunities project, working in partnership with Creative Carbon Scotland. The artists were fully immersed into our welcoming charity, to learn about how they are tackling the global climate emergency through the promotion and celebration of cycling.
We designed the VeloCommunities project with the goal of converting car drivers into cycle commuters, to positively affect the environment. The project involves cycle training, skills development, and a bike buddy scheme for Glasgow residents, amongst numerous other features.
Over the course of the commission, the artists have worked with users of our services, and our volunteers and staff. Alongside engagement activities, two films have been produced exploring how cycling can help to build community, create a better and more sustainable Glasgow, and contribute to Scotland's efforts to tackle the global climate emergency.
The films were commissioned to celebrate that cycling initiative 'VeloCommunities' is the 1,000th project funded by the Scottish Government's Climate Challenge Fund, which supports community-led organisations to address climate change by running projects that reduce local carbon emissions.
Artist Lewis Hetherington said:
"It's been hugely eye-opening and invigorating being part of the VeloCommunities project whilst making this film along with Geraldine Heaney. To see the openness, generosity and energy of the organisation has changed the way I think about cycling, and climate change. On a global level it has sharpened my awareness of the scale and urgency of change that is required, but also reminded me of how beautiful that new world could be, where people are happier, healthier, and more connected to each other and to the natural world."
Glasgow South Hub Leader, Shgufta Anwar said:
"The VeloCommunities project has impacted thousands of lives and has made a real change to people's travelling habits, confidence and awareness of climate change in Govanhill and beyond. We can't wait to show the final film and hope the Glasgow cycling community will come along to view and support this amazing creative work!"
A Scottish Government spokesperson added:
"The film highlights how lifestyle changes that reduce our carbon footprint can actually have a very positive impact on our wellbeing. We hope that it will inspire others to get involved in community projects like those supported by the Climate Challenge Fund and to take action in line with our commitment to stop Scotland's contribution to climate change within a generation."
————————————————
Blog post by Kimberley White of Bike for Good
Watch the first film here and the second film here