Bike for Good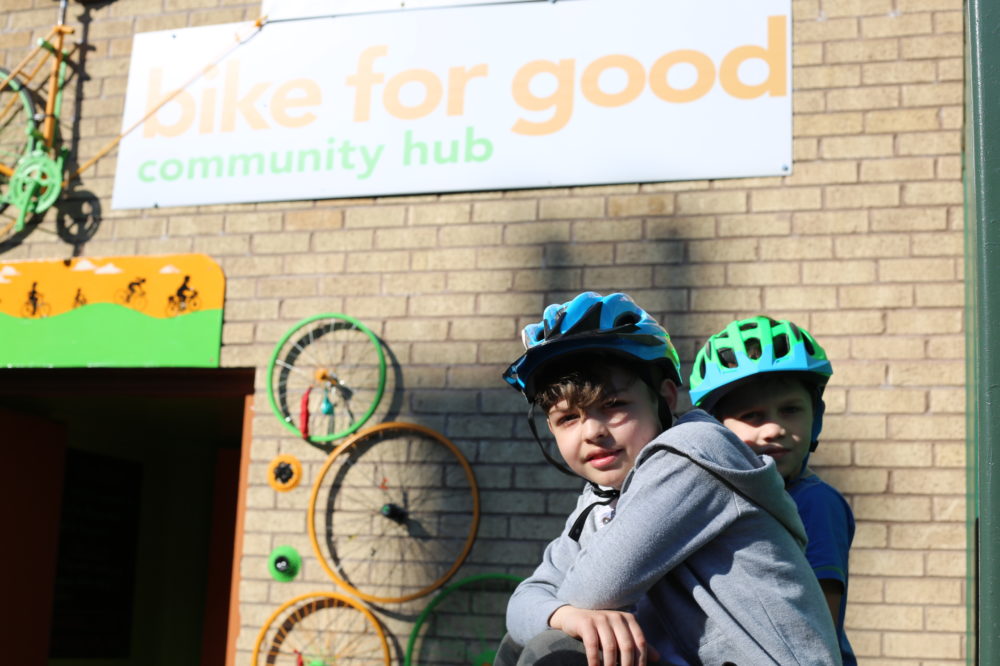 Bike for Good started in 2010, unfunded in a small stall in Glasgow's famous Barras market. They now have two community hubs and a team of 50+ staff members and volunteers who have helped to change thousands of lives through cycling!
Their social enterprise and charity is dedicated to making Glasgow a cleaner, healthier and greener place to live. They do this by promoting cycling as a viable means of transport and their services include:
The sale of refurbished bikes; facilitating the circular economy
Bike maintenance training, including Fix Your Own Bike services
Commuting support, such as route planning and cycle training
Free bike loans, including e-cargo bikes
Maintenance and redistribution of Glasgow's city wide bike hire schemes. Ensuring more than 500 bikes are available to residents 24 hours 7 days a week
They also offer a programme of free services and projects to reach those who are new to cycling or who may need a bit of encouragement to get back on a bike:
Build Your Own Bike: courses for people facing additional barriers to employment to teach them how to build their own bike and learn maintenance and repair skills along the way
Women and non-binary programme: weekly lessons and led rides specifically for women and non-binary people, Bike for Good also provide sports cycling taster sessions and maintenance classes specifically for women and non-binary people
Pedal Pals: a digital platform connecting cyclists in Glasgow so they can cycle together, making new friends and skills along the way
Community partner courses: group courses and taster sessions delivered in partnership with community organisations from the most deprived/isolated areas of Glasgow
Practical Cycle Awareness Training: offer drivers of large vehicles the chance to step into the shoes of more vulnerable road users, including those on bikes, on foot and those with disabilities. The aim is to provide them with a greater understanding of their needs.
Regular social events, including led leisure group rides, film screenings and more!
From their two Community Hubs in the West and South of Glasgow, they work in partnership with community groups, schools, local councils, businesses and charities to reach those who want to make a change for the better.
They regularly run events throughout the year from their premises in West and South, to bigger scale closed road events.
Get involved
Email Bike for Good's Volunteer Coordinator Jula to join their volunteer waiting list jula@bikeforgood.org.uk
Contact
Glasgow West Community Hub:
0141 248 5409
glasgowwest@bikeforgood.org.uk
Glasgow South Community Hub:
0141 261 1609
glasgowsouth@bikeforgood.org.uk
Opening hours
West Hub: Wednesday 9am – 5pm, Thursday 9am – 12:30pm, Friday 9am – 5pm, Saturday 9am – 5pm
South Hub: Tuesday 5 – 8:30pm, Wednesday 9am – 5pm, Thursday 9am – 8:30pm, Friday 9am – 5pm, Saturday 9am – 5pm
Read Bike for Good's Covid-19 Shop Sales and Repairs to see what current services are available during these hours